UPEN Chair
The Chair of UPEN is provided by one of its member universities on a rotation basis.
Current Chair: Professor Matthew Flinders, University of Sheffield.
Matt can be reached via m.flinders@sheffield.ac.uk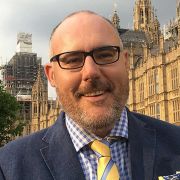 Previous Chairs:
Stephen Meek, University of Nottingham, 2019-2020
Gavin Costigan, University of Southampton, 2018-2019
UPEN Network Manager
Our Network Manager (Secetariat) is Laura Bea on a part time basis.
Laura can be reached via l.e.bea@sheffield.ac.uk
The Previous Network Managers were:
Alex Clegg, University of Sheffield
Kayleigh Renberg-Fawcett, University of Nottingham
UPEN Membership Officer
Our Membership Officer is Lauren Martin, a 1+3 PhD Student researching democratic ecology of Parliamentary e-petitions at the University of Sheffield.
Lauren can be reached via secretariat@upen.ac.uk
Vice-Chairs
The position of Vice Chair is intended to fulfil three main roles: (1) to support the Chair of UPEN in relation to specific projects and initiatives; (2) to support sub-committee chairs in the successful delivery of work streams; and (3) to act as external ambassadors for UPEN. The Vice Chairs are a critical element of UPEN's strategic direction and work in six key areas.