UPEN Chair
The Chair of UPEN is provided by one of its member universities on a rotation basis.
Current Chair: Professor Matthew Flinders, University of Sheffield.
Matt can be reached via m.flinders@sheffield.ac.uk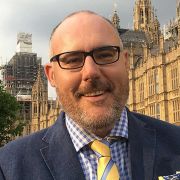 Previous Chairs:
Stephen Meek, University of Nottingham, 2019-2020
Gavin Costigan, University of Southampton, 2018-2019
UPEN Network Manager
Our Network Manager (Secetariat) is Laura Bea on a part time basis.
Laura can be reached via l.e.bea@sheffield.ac.uk
The Previous Network Managers were:
Alex Clegg, University of Sheffield
Kayleigh Renberg-Fawcett, University of Nottingham
UPEN Membership Officer
Our Membership Officer is Lauren Martin, a 1+3 PhD Student researching democratic ecology of Parliamentary e-petitions at the University of Sheffield.
Lauren can be reached via secretariat@upen.ac.uk
Vice-Chairs
The position of Vice Chair is intended to fulfil three main roles: (1) to support the Chair of UPEN in relation to specific projects and initiatives; (2) to support sub-committee chairs in the successful delivery of work streams; and (3) to act as external ambassadors for UPEN. The Vice Chairs are a critical element of UPEN's strategic direction and work in six key areas.
Des McNulty, University of Glasgow
Remit: International Partnerships
Des McNulty helped set up Policy Scotland at the University of Glasgow and was one of the earliest members of UPEN. He became Dean for Public Policy in 2016 and was then appointed as Assistant Vice Principal in 2017, responsible for civic engagement and place leadership. After stepping down from his AVP role is 2021, he maintains his connection with the University of Glasgow as Honorary Fellow, Civic Partnership and Place Leadership.
Before joining Glasgow University in 2012, Des was an elected member of the Scottish Parliament 1999-2011 where he served as Minister for Social Justice and as Chair of the Parliament's FinanceCommittee. A sociologist, he previously worked at Glasgow Caledonian University and in localgovernment in senior roles in Strathclyde Regional Council and Glasgow City Council 1990-1999.
Des can be reached on des.mcnulty@glasgow.ac.uk
Gareth Giles, Public Policy | Southampton, University of Southampton
Remit: Research England Development Fund & National Coordinating Centre
Giles (as he is known to all) brings more than a decade's worth of experience working between central and local government and the higher education sector. In his current role is responsible for the strategic direction of PPS, financial sustainability of the team and internal and external stakeholder management. Giles is currently working on policy engagement culture change within the University specifically focusing on developing mechanisms that support and celebrate the successes of our diverse range of world leading Early Career Researchers.
Giles can be reached on G.Giles@soton.ac.uk
Hannah Durrant, Wales Centre for Public Policy, Cardiff University
Remit: Regional and Devolved Policy
Hannah is Senior Research Fellow at the Wales Centre for Public Policy, Cardiff University. Her research focuses on the politics, processes and practices of knowledge production and mobilisation and the role and impact of research evidence and expertise in policymaking. She leads the Centre's programme of work on loneliness and the role of communities and digital technologies in enabling social connection and enhancing wellbeing.
Hannah can be reached on: Hannah.durrant@wcpp.org.uk
Kayleigh Renberg-Fawcett, University College London & CAPE
Remit: National Coordinating Centre for Public Policy
Kayleigh Renberg-Fawcett is the UCL Coordinator on the Research England funded Capabilities in Academic-Policy Engagement (CAPE) project. Previously, Kayleigh was the Network Manager at UPEN and was a co-chair of the EDI Sub-Committee. She was also Director of the China-Britain Football Centre, which connected young people in the UK and China through football and worked on the University of Nottingham's Asia Research Institute and Institute for Policy and Engagement.
Kayleigh studied Contemporary Chinese Studies and International Relations at the University of Nottingham. She continues to study Mandarin and Swedish and is working towards her Mountain Leader qualification.
Kayleigh can be reached on: k.renberg-fawcett@ucl.ac.uk
Nicola Buckley, Centre for Science and Policy, University of Cambridge
Remit: Strategic Partnerships
Nicola has led the Policy Fellowships team at the Centre for Science and Policy at the University of Cambridge since 2016, responsible for a programme for around a hundred Policy Fellows active each year, matching policy officials to relevant academics, and developing interactions with other universities. She is the Cambridge lead for the Capabilities in Academic Policy Engagement project (CAPE). Nicola is also on secondment for 4 days per week to the Parliamentary Office for Science and Technology from July 2022 for a year, to work with select committees on generating Areas of Research Interest. She will retain her role at CSaP for 1 day per week and her role with UPEN during this period. Previously, Nicola was the Head of Public Engagement at the University of Cambridge when she managed the annual Cambridge Science Festival and set up and managed the Festival of Ideas. Prior to that, Nicola worked as Fundraising Manager within three charities. Nicola has an MA in History and an MPhil in Social Anthropology from the University of Cambridge, and an MSc in Science and Society from the Open University.
Arlene Holmes-Henderson
Remit: Arts and Humanities
Dr Arlene Holmes-Henderson is Associate Professor of Classics and Ancient History at Durham University where she holds a British Academy Innovation Fellowship (2022-2024). She investigates the learning and teaching of classical subjects in schools, universities and communities. Formerly a Policy Leader at the University of Oxford, Arlene sits on AHRC's Public Policy advisory group and several national committees at the British Academy. As an expert in Classics outreach and knowledge exchange, she engages diverse stakeholders to explore ways to widen access to the study of the classical world. Working at the intersection of research, policy and practice, Arlene acts as expert advisor to policymakers in government and parliament on issues across the Humanities and Education. Her successful policy engagement with a range of partners has been showcased in this short video: https://www.youtube.com/watch?v=h6gEzYV9RS
For more information visit www.drarlenehh.com and follow her on twitter at @drarlenehh